services
Face
Breast
Body
Genitals
Hair & Skin
contact us
Credentials
Home / Services / Ear Reshaping or Otoplasty
Ear Reshaping or Otoplasty
An Introduction
Otoplasty (Ear correction) is the surgery to reduce prominent ears. If protruding or dis?gured ears bother you or your child, you may consider otoplasty. It can involve changing the angle and shape of the ears to make them appear less obvious, improve the shape, position or proportion of the ear. It can correct a defect in the ear structure that is present at birth that becomes apparent with development or it can treat misshapen ears caused by injury. Ear surgery creates a natural shape, while bringing balance and proportion to the ears and face. Correction of even minor deformities can have profound bene?ts to appearance and self-esteem.
Ear surgery often is recommended for children as they have near total ear development at age five or six. Correction of the ears prior to the child entering school helps eliminate potential psychological trauma from the teasing of classmates. Adults may also have their ears reshaped. As long as you are in good health, there is no upper age limit for this surgery.
Are you A good Candidate for Otoplasty?
Patients who benefit from ear surgery include those who may have :
Large ear (s)
Protruding ear (s)
Abnormally shaped ear (s)
The Procedure
One of many surgical techniques may be suggested to improve the appearance of your ear(s). The particular technique that your plastic surgeon recommends will depend on the nature of the problem and many other factors including your desires. Because of individual factors, not everyone will achieve the same results from ear surgery. Your plastic surgeon will select the surgical technique that he feels will obtain the best outcome for you.
Correction of protruding ears uses surgical techniques to create or increase the antihelical fold (just inside the rim of the ear) and to reduce enlarged conchal cartilage (the largest and deepest concavity of the external ear). Incisions for otoplasty are generally made on the back surface of the ear. When incisions are necessary on the front of the ear, they are made within its folds to hide them. Internal, non-removable sutures are used to create and secure the newly shaped cartilage in place.
Your Recovery
Discomfort immediately following ear correction surgery is normal and can be controlled with pain medication. There may be an itchy feeling under bandages. It is essential that bandages remain intact and are not removed, for any reason. This will stay in place until you come to your first follow-up appointment. You can wash your hair as normal when the dressing is removed. Some swelling and bruising can be expected but will subside over a week or two. A headband should be worn at night for three weeks after the dressing is removed whereas in Earlobe correction surgery, there is no need for a headband. Adults can return to work and children can return to school once the dressing and bandage is removed, even though some tenderness may remain for a couple of weeks.
Expected Results
Ear surgery offers almost immediate results in cases of protruding ears, visible when the dressings that support the new shape of the ear during initial phases of healing are removed. With the ear permanently positioned closer to the head, surgical scars are either hidden behind the ear or well hidden within the natural creases of the ear.
Earlobe Correction
Women and men wear ear jewelry to enhance their appearance. Rings, posts, and other objects have adorned ears since ancient times. Various parts are pierced to better hold these items in place. Unfortunately significant weight or trauma can pull through tissue. A tear in the lobe or margin leaves a notch in the otherwise smooth continuous edge. This defect is usually very visible and hard to cover with hair or clothing. Unpierced ears are less likely to tear. The tiny wires that hold jewelry can tear through the tissue when sharply yanked or with enough pressure slowly over time. Around young children take the earrings out before the damage occurs. Young children grab jewelry and pull. Larger loops and bigger items are more easily snagged by their little hands. Small posts are less likely targets but can still cause damage.
Large or heavy items will gradually elongate the hole and eventually will tear through the lobe. Larger masses have more momentum and damage more easily happens during activity. If you cannot live without your heavy jewelry, be careful about quick movements. Lighter smaller adornments are safer.
Are you A Good Candidate for Earlobe Correction?
If you are one of those people out there who have a torn earlobe, you can be a good candidate for this procedure.
What is Actually torn?
The soft ear lobe has skin and fat. Other parts of the ear have cartilage adding structural strength. Since the tissue over the cartilage is thin, contour irregularities of the cartilage are easily seen. Reestablishing the delicate shape of the underlying cartilage adds complexity tom a reconstruction.
The Procedure
This is simple, in-office procedure can be performed under local anesthesia. Most ear holes gradually enlarge over time. The final tear is usually just through a tiny piece of tissue at the bottom of the lobe. If only the bottom is actually torn, immediate repair will not take care of the skin covered slot. However if the tear starts from a tiny pierced hole, immediate repair is an option. Otherwise reconstruction is delayed after the wound has healed and tissues are not inflamed.
Depending on the deformity, reconstruction can take different forms. In all methods, the skin lining of the slot is removed creating a raw edge to rebuild. Lost tissue complicates matters and reconstruction centers around reestablishing normal proportions in a somewhat smaller ear.
Technique 1 (Layered Closure)

The raw edges are brought directly together using a combination of dissolvable sutures in the deeper layers and skin sutures that are removed at a later date. No provision for the jewelry hole is made at this time. After several months of healing, the ear can be pierced again if desired. A straight closure like this has increased risk of scar contraction causing a notch at the bottom of the lobe after healing.
Technique 2 ("Z-plasty" flap)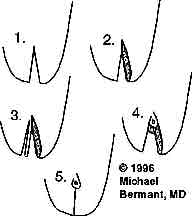 Tissue cut in a special pattern and moved with its blood supply is called a flap. Flaps are used to redistribute tissue and sculpt the shape of the ear. Flaps lessen the chance of scar notching. If your want, the ear could be pierced at a later date. A small piece of cartilage harvested from the same ear and placed below the hole may reduce the future chance of re-splitting of ear lobe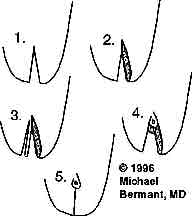 Technique 3 ("Jelly roll flap)
A series of flaps are designed and moved to rebuild both the skin hole for the jewelry and close the ear in one stage.
Your Recovery
Injection of local anesthetic numbs the earlobe. Anesthesia wears off after several hours. After surgery most patients do not need pain medication. If any pain medication is needed, plain Ibuprofen or Paracetamol seems to work well. You will need to wash your wound with soap and water daily. A thin layer of antibiotic ointment is the only dressing in most cases. You may wash your hair but will have to be careful with blow dryers until sensation returns. (You could burn yourself without knowing it if you were still numb.) Sutures are removed in about seven (7) days.
"If I chose the layered closure or "Z-plasty" flap can I get my ears pierced?"
If your ear has been closed and you want a new hole pierced, wait six months after surgery.
The scar should be soft before you try this.
FAQs
Ques.1: At what age should an ear surgery procedure be performed?
Ans. Ear surgery often is recommended for children as they have near total ear development at age five or six. Correction of the ears prior to the child entering school helps eliminate potential psychological trauma from the teasing of classmates. Adults may also have their ears reshaped. As long as you are in good health, there is no upper age limit for this surgery.
Before & After Pics
How much will a Ear Reshaping or Otoplasty Surgery Cost?
Other Links : Face Lift / Eyebrow Lift / Baggy Eyelids / Nose Job (Rhinoplasty) / Lip Enhancement / Chin Correction / Cheek Enhancement / Dermabrasion / Ear Correction Surgery